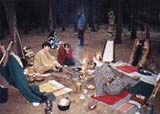 Indian Corral W.I. is part of corrals W.I.asociation. Headquarters is situated in American Oklahoma. Together with indians have own corral drivers of Pony Express, soldiers of Civic War, country groupies and dances groupies.
I.C. consist of several "tribes" - groupies people, whose attention is focused at a tribe( Dakota, Arapaho,...). These groupies are running their owns camps and other actions during whole year. All together they meet several times per year at summer and winter camps, springs and autumns meetings. At these meetings they change their experiences, sell and buy indians things like blankets, beads, quilwork,...You can also find books and magazine, tapes or you can visit a lesson with relations to Native American.
During my visit in Hawaii in september 2002 I could watch Pow Wow. It was in a little town of Waimea. Because native americans were not original citizens of these islands, their reptezentation was not big. I can say most people were none native americans. Anyway it was great to see their performance and everybody had a good time. The biggest impression made a guy dancing with rings.