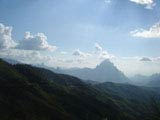 Currency
Laos' currency is "Kip" but it is possible to use Thai Bath and US$. Kip does not have any value outside of country. When I wanted to exchange Kips for Thai Bath I had a little problem.
Security
- people are very friendly. I had not have any single feeling of danger in 6 months which I had already spent in Southeast Asia. Only fear I had one time during the night when there were dogs without any master. On the other hand you have to be sometimes careful with people for who are tourist business such are taxi drivers, tuk tuk drivers,...But that is in western world too.
What to take and what not
a cooker - does not make sense to cook for itself, meals are good and cheap.
a tent - it is not necessary, there is always cheap and good accommodation for ($2-$3)
sleeping bag - maybe useful in mountains, otherwise it is not necessary
Internet
- is available in bigger towns and in tourist places, sometimes there is a minimum fee. In autumn 2005 internet access was not in Pakbeng.
To burn CD
- it was easy to burn CD with pictures from digital a camera fotek in Luang Prabang.Ther is not usually necessary any USB cable because they have a special slots for memory cards. In contrast to New Zealand here they do not charge each memory card separately but you pay per CD.
Voyage on Mekong River
Prices
- unfortunately they are not on markets visible like in Thailand, so it is easy to pay more then locals. For example I had almost paid for a whole my stay in Laos double price for drinking water. On the other side water is so cheap that I did not want to bargain over it...