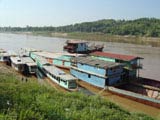 I took boat from Huay Xai into Luang Prabang on Makong River. Because I heard different story – it was wonderful, it was like a hell – I decided to buy first only ticket to Pakbeng. The river with many rocks and currents is danger and every voyage can be done only during day time when is light. Because this anyway everybody stays in Pakbeng overnight.
First day, actually six hours, of voyage was great. There was still what to watch and we had one a half hour stop. I liked also to wonder around the Pakbeng. Meetings with people from villages around are one of my deepest experiences. After four days stop I decide to keep travel on the Mekong.
There are two kind of boat that you can take. "Slow boat" was whole made of wood with roof. Windows were open. The speed of this slow boat was fast enough. I would say perfect to keep your attention with changing scenery. I could watch fish men, villages, hunters walking on the river's banks. Fields, animals and thick jungle. This quite atmosphere was sometimes broken with noisy "speed boats".
Speed boats are faster, smaller and much louder. You have to wear helmet. In such boat you can do whole trip in one day. It will cost several times more and you will see much less. Your body will be tired and ear deft. One tourist died when on a wave was catapulted and landed on the rock.