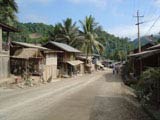 Pakbeng - town looks rather like a village then town lays in a particularly scenic spot, where the Nam Beng flows into the Mekong (Pak means mouth, and Beng is the name of the river), the town itself doesn't have a lot to offer but a number of guesthouses and restaurants have sprung up catering to backpackers.
Settlement servers for travelers along Mekong river between cities Luang Prabang, Huay Xai and Udomxai. Mostly wooden houses stay on slopes on the northern bank of Mekong river. Along main road are several guest houses and restaurants, market. With other world is town connected by one road. During my visit in autumn 2004 was under construction. Best meals were served in Indian restaurant. Stall were open only when boats arrived with tourists. 90% of them stop here only for a night and next morning kept continue on their voyage to Luang Prabang. It is common to see tribe people from surrounding villages in the town who come to trade on the market.
There are two temples. Wat Khok Kho is later one, Wat Sin Jong Jaeng dates to early French colonial period or possible earlier. Except these two temples here are not other monuments.
Man can enjoy and rest in a slowly floating time without any rush. It is worthy to visit surrounding are. You can discover several hill tribe villages in short distance. Encounter with their habitants were one of my deepest experiences.
There was not any internet access in town.(autumn 2004)