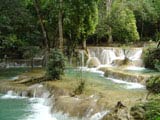 Tad Sae Waterfall - well worth the half-day bike trip because of its limestone cascades. Cascades make little pools in which are possible to bath. They are just before the conjunction of the Huay Sae and the Nam Khan River. Huay Sae River flows through forest and make several cascades.
Tad Sae waterfalls are circa 13 kilometers south of Luang Prabang. . After one uphill and long downhill you turn left on unpaved road. There is a sign. After another kilometer is a little village. Here you can left your bike and have to rent boat. After circa five minutes voyage it is on the right site visible river running from the forest. Price for return voyage was 10 000Kips (US$1).
Because it is a park, you have to pay entrance fee (8 000Kips). Restaurants and facilities are available. Not so many visitors come here during week days. The best time is after rainy season when is a lot of water. During rainy season the water supposed to be too muddy. During the dry season, the waterfall often has no water, and is not so spectacular. There are rarely any visitors at this time. Modest swimwear is required so as not to cause offence to the mostly Lao visitors.