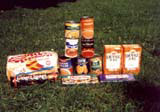 Tourists Information - free tel: 0800 600 900 - 24 hours, everywhere from Britain.
At Britain I have found the most density net of supermarkets with cheap basic food, drink,... (sometimes cheaper than in CZ). The cheapest one is Aldi. My the biggest discover were already cooked Spaghetti in potato staff (tin-can 411g) just for 5 penny. By the way bread, soda -2l and very delightful chocolate "Cendbury". On the other hand find a drink water anywhere was impossible. So if you want to cook soap you have to ask somebody for water.
England is country with the easiest hitchhiking. I was usually waiting less than 15 minutes.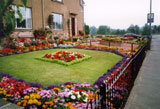 For nights you can use some of youth hostel or Bed and breakfast £(10 - 15), that are everywhere or outdoor. I slept first in my life at hostel in northern Scotland. If you are not member of their association you have to pay more, here about £10. They had not free bad but because it was too late and rain outside I was able to sleep on the floor in common room for member's price - £ 5,85.
In London are prices higher. I slept free nights at The Chelsa Hotel - it had less category that the worst collage at Prague. Six people at one room, just bed without any furniture. Just one bulb,...
Not very clean bathroom at mezzanine. And these all you can have for £ 11 per day. In addition a boy from Germany get some eruption last day. I almost forget about a "continental breakfast". I did not find anything cheaper. Address: 33-41 Earls Courts Square
Locker at railway station costed fro bigger rucksack £5 per day.
MHD- it is possible to buy a day ticket just for £3 that you can use in center of London. Single ticket are too expansive - over £1. But I thing it is possible to walk to almost all maine attraction.
Admission - for castles, that are a lot in Britain, are very expensive (4-8)£ and not always you can use student's discount.
The Weather - anytime, when I was in London, sunny was changing with rain very quickly.