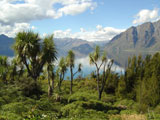 Wanaka - a little town with circa 4 thousands citizens is situated on shore of Wanaka Lake. The Lake Wanaka is fourth largest lake in New Zealand. First Maori wandered in this are when ere looking for pounamu - green stone. This stone was valued as material foe weapons, tools and decoration ornaments. On Wanaka place was built camp each summer. Camp served as base for fishermen and bird hunters. The camp was almost destroyed by raid of Maori from north in 1836.
It is believed that first European explored the area of Wanaka in 1853. More European arrived after gold discovery in central Otago. Wanaka was originally called Pembroke. However, the major discoveries on the West Coast saw most move out and by the late 1870' most of the European, and the Chinese miners who followed them, had gone. Wanaka is popular tourist destination for huge choice of activity. Town with wide restaurants offer serves as base for expedition into Mount Aspiring National Park or Lake Hawea area.
Wanaka offers similar activities as better know and lager Queenstown which lays approximately 100 kilometers south west. But Wanaka impressed me more. After kind of hard hike, 8 km of steep uphill that took me two hours, you can enjoy great view from Roys Peak (1578 m).
Each year you can visit big air show called warbirds over wanaka.