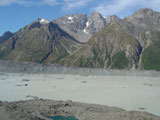 Arrival - about first hours in NZ, most of them spent at immigration and my first day, let us say night I write in Travels.
Hitchhiking - wine - drivers in New Zealand are friendly to hitchhikers. That was one of reasons why I decided to discover this country in this way. That is true confirm a truck driver who gave me a bottle of high quality wine.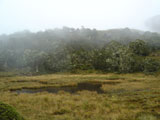 Unfortunately at that time I used pill and could not drink. I did not want to carry that heavy bottle during my next two hikes on Queen Charlotte Track and Abel Tasman Coastal and Inland Track. So I hid the bottle near a little town just next to a road in the forest. The bottle had waited for me full and undamaged for more than two weeks. I pick it up and took the wine to Wellington to my friends.

Hitchhiking-caravan I was hitchhiking in Kaikoura on eastern coast heading back north. I stood opposite to petrol station. A middle age woman with a caravan gave me a lift. When we start to move she told me she had not wanted to take me. But when our eyes met she had to. Later on the way to a little port Picton we made a stop in town called Blenheim. She went for shopping into the center and I bought some provident in supermarket. But because I should be back sooner she gave me a key and turn gas on that I could get into the caravan and make a coffee for me when waiting for her. Before we split she invited me to her farm.... thank you :)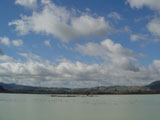 Hitchhiking-mix Old man gave me a lift and than we drink several beers in the Tui brewery museum. Driver who gave me a lift along "World forgotten highway #43" gladly made several stops on beautiful overlooks that I could take some great photos. Four times in total drivers turn their car when they pass me and went back for me. Two Maori girls gave me a lift. Because their weren't too busy I gave them a some change and they took me 60 kilometers farther then they were originally going. During this drive we did several stops.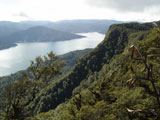 Hitchhiking-fear There is never big traffic to Te Urewera national park. After around a hour of waiting four guys stopped. Just when I got to the car they pushed the gas and left. No longer then ten minutes later they came back for me. I got into the car. I have been to New Zealand almost for a half year and this was first time I felt a fear. It was first time I was not sure about native citizens...Their continuing laughing and looking at me, smoking grass,...I told to myself: "as far as we are on the paved road it is ok...". I did not wanted to show them my uncertainty. It was still long 70 kilometers to my destination. After fifteen kilometers they had left paved road and started to climb uphill. I asked them to stop but they told me:"We are just going to drop of one of us and then we will keep going in your direction". I am feeling pretty uneasy. I consider my chance against four guys 18-25 age and it does not look good...

We stop on the top. One guys is leaving but we are waiting. He is comming back. In his hands he is holding a shot-gun and belt with cartridge. At this moment you would not find a blood in my veins....We have turned a car and are going back to the road. We truly keep going in my direction but that also means that we are leaving a civilization more and more. After a short time a driver is running over guard stones. To my relief they made them of elastic plastic so they are not damaged. That I can not say about our car which is getting overheat. We have to stop. I am thinking about to leave but it is not any traffic here. In ten minutes we keep slowly going. We stop on roads intersection at Ardkeen, in a distance I can see only one house. With relief and thanks I am leaving these Maori guys. They are going to shot somewhere into the forest and I keep hitchhike to national park. It is still good thirty kilometers...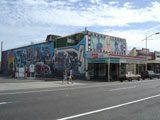 On the track- food On my fifth day in Abel Tasman national park I meet in the middle of forest at a ruin of a old hut Englishman. Today it is his second day and he is hiking in opposite direction. His first day was a long uphill with a full backpack. He wanted already yesterday to left some food in a Castle Rock hut where he spent last night. But that is against the rule "what you bring in, pack out". When he saw me with a big pleasure he share his provident with me. We had a lunch together and I got something even for the rest of the day....
On the track-a tent A tent's pole broke in the morning on Caples Track. I was lucky that I hiked with two local guys and three Asian girls. "Kiwi" were good equipmented and so they had even a short pipe that I could use to temporary repair the broken pole. Thank you guys and a lot happy kilometers....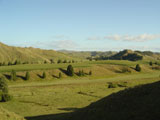 On the track-bandage First of all I wanted to spend only one day in Tongariro national park. But during hike on Tongariro crossing I met two "kiwi" and one Czech girl with them. I could join them so I kept hiking on "Tongariro Northern Circuit" trail. Not just they gave me useful information about national parks in New Zealand. When we split they left some commisary in next hut for me. They help also me with pain in my knee. The bondage I used several times during my many hikes.
On the trail-Rats I spent a night of horror in a beautiful "Locke Stream Hut" in Arthur's Pass national park. Fortunately I have read a note in a visitor book which warn about rats in the hut. I hung all my commisary in a plastic bag. Sooner than a night fafallsown I could hear them. This titime exactly did not have a goon sleep. I am not exactly the one who like to share a room with rats. And that they did not have any respect of me showed a candle that they throw down when jumping over me in the middle of night....