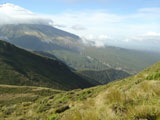 Thailand
My almost nine and half months long journey starts on 4th October 2004. I am heading to New Zealand, unfortunately without a bicycle which I wanted to use. It is a long long way so to have a some brake I decided to have a stopover in Bangkok and visit Thailand and Laos. I fly with taiwan Eva Air through Vienna to Bangkok. Just a few hours after my arrival to this City of Angels I meet a local teacher Orawan. That has main influence on my stay in this part of the World. Instead of my trip to the north we go together visit an island of Ko Samet.
The time Orawan has to be in her school I am visiting Kanchanaburi. I buy one day trip to surroundings area. After this a short trip we are heading north by a train. We stop in the first Thailand's capital Sukhothai, a historical park Si Satchanalai, city Lamphun and in the main cultural and business center of northern part of the country Chiang Mai. Orawan takes straight overnight bus back to Bangkok (ticket TB 160, from Bangkok even just TB 100).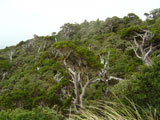 I am travelling around northwestern part of Thailand and for a several days stop in a little town called Mae Sariang. In the village in neighbourhood I visited another school to where I was invited by a teacher Chansri Daengto and a frontier town Ban Mae Sam Laeb. After a bike excursion around Mae Hong Son I am watching very exotic festival's ceremony in the center of this mountain town. The celebration took over six hours. Next day I am going to visit one of several hill tribes. My visit of "Long Necked Karen" village does not last long. I have mixed feeling.
My stopover in southeast Asia is only two months long and time is getting shorter. That is why I can not stay in a pleasant little town Pai longer than three days. I am leaving this wide valley surrounded by mountains by a bus and drive all the way to Mae Sai situated on the border with Myanmar. It is possible to cross the border here. But I keep travelling through Chiang Saen to Laos.
Laos
I bought a voyage from Ban Huai Sai along the Mekong River. First of all just to Muang Pakbeng. I spent here wonderful four days by discovering little villages in surrounding mountains. Then I took a slow boat again and went to Luang Prabang which is UNESCO world heritage.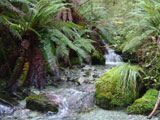 On my way to the capital Vientiane I stopped for two nights in well known Vang Vieng. Next time I would definitely like to visit area near Muang Kasi and do some hikes in mountains. From a bus it was such a wonderful view like in a fairy tale....
Because 10th Meeting of Asian Presidents I did not have enough time to see Vientiane. There was possibility of closing Thai-Laos border and I had to leave back to Thailand. My the last task here was to change useless Kips to Thai Baths.
With a little stop at biggest Thai stone ruins in Phimai and meeting with Bee in Khorat I went back to my friend Orawan in Bangkok. Here we celebrated Loi Krathong and after great dinner on the boat "River Side Bangkok" I left to see the Southern Cross.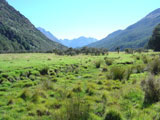 New Zealand
I arrived to New Zealand on 3th December 2004. I got straight into New Zealand's life thanks to my friend Colin, who I had met on the way here in Bangkok. Before we got to his house I spent several hectic hours...
Discovery of these beautiful islands I started by a little longer trip north of most populated city Auckland. After a short stop in first Bohemian settlement Puhoi I hiked in Bay of Islands. Through Kerikeri I went all the way to the northern edge of northern island Cape Reinga and Ninety Mile Beach. Back to Auckland I got through Waipoua Forest and Trounson Kauri Park, where I could see last pieces of magic Kauri tree.
At a little settlement Aranga Beach I joined on a path running several kilometers along Tasman Sea. After fife kilometers hike I turned back into inland and build a tent by "Kai-Iwi Lakes" - three freshwater lakes with white sands beaches.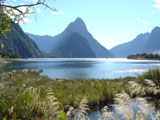 Small but nice The Kauri Museum in Matakohe (entrance fee NZ$ 12) I spent a whole week at Colin in Auckland. I arranged my stopover in Bangkok on the way back home and got vaccination against typhoid fever (doctor cost NZ$60 + vaccination NZ$55).
I got by hitchhiking to Tongariro NP from Auckland in one day. Along State Highway 43 - "World Forgotten Highway", running over hilly farmlands and through 20 kilometers long canyon, I hitchhiked moved to Taranaki NP.
I spent longer time with my new friends Chris and Blair in the capital Wellington and then took ferry Blue bridge to a southern island.
My first stop was in Hanmer Springs, then I hiked for four days over Harper Pass and got to western cost: Franz Josef Glacier, Copland Track. In inland I visited a few cities: Wanaka, ArrowtownQueenstown. By a hiking track Caples Track I got on the road to Fiordland.
On the way back north I visited Mt Cook NP, Marlborough Sounds and Abel Tasman NP. After this last hike I took ferry back to Wellington. I visited my friends here again.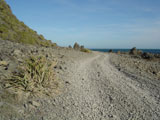 To Auckland I went through Te Urewera NP, city Rotorua and a peninsula Coromandel where I dug my own hot pool at Hot Water Beach RR and did last hike in New Zealand at Coromandel Forest Park.
21th May I left for Bangkok.
Thailand
During this seven weeks in Thailand I never left the country. After longer weekend on Ko Samet island with Orawan I visited Khorat and Khao Phra Wihan NP on the Cambodian border.
Together with Orawan we had a good time at Cha-Am and Hua Hin, visited the Phra Nakhon Khiri monument and Pattaya city. Last week I spent five days on Koh Samui island. I arrived back home on 15th July 2005.