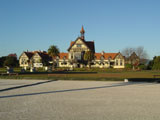 Rotorura, (Maori "Second lake") is situated in the centre of North Island. City was established at beginnings 30's 19 century. You will smell the town with 57 000 inhabitants before you see it. City lays in are with the highest thermal activity in New Zealand. Thin Earth crust is broken on many places through the city and you can see leaking steam and bubbling mud pools through the town. Spa resort has been running over 160 years here and attracts tourist from over the world. Rotorura is the most visited place in New Zealand.
Thermal hot water attracted already Maori tribes who had settlements on Lake Rotorua and Lake Tarewera shores. They used hot springs to cook and for bathing in cold weather. Rotorura has largest presentation of Maori culture.
Local Tuhourangi runs tours to hot springs at Lake Tarawera in 1860. Seven cascade terrace 30 high meters led to the lakes' shore. Terrace had white and pink colors. Unfortunately explosion of Mt. Tawawera volcano on 9th June 1886 all terrace destroyed as well as several small settlements in neighborhood.
After this eruption Maori settled at Whakarewarewa valley. This settlement is now the main cultural center of Maori. Center is situated just a few minutes walk east of the Rotorura. You can see here Maori ceremonies, traditional dance, haka as well as woodcraft, canoe, ancient maori village,... More over you can see up to 30 meters tall geysers. The best known Pohutu geyser explode 10-20 times per day and explosion last for 5-10 minutes.
Whakarewarewa Forest Park is just north of the cultural centre. As timbering is one of the biggest industry in New Zealand at beginning of 20th century they do experiments with different kind of trees which would grow quickly. As a result you can see here for example north American - Californian redwood.
Probably each hotel but even camp can offer to its customers bath at hot springs spa. That was another reason why I decided to stay one night longer at Riverside Holiday Park. Person per a night at a tent cost NZ$13, spa are free of charge.
In this central district are several locations with geysers. To see the most famous and probably the best ones you will have to pay entrance fee. However many others are free of charge.