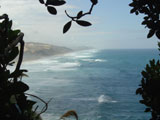 Maunganui Bluff lays on Tasman see coast. Cliff is 460 m high. Park covers 495 hectares and preserves one of a few unspoiled costal areas in this part of New Zealand. To climb to the summit and back from Aranga Beach takes around three hours. You do not need to hike all the way to the summit to have wonderful views on several kilometers long beach which spreads south from Aranga Beach. At Aranga beach are only seven houses. Only three families and four single men lived here in January 2005. I wanted to buy some food here but they did not have at such small settlement any shop there.
50,5 kilometers long hiking trail leads along coast. It takes 16 hours of hiking to do the trail. It is recommended to do whole trail in three days. You can start at Hokianga Harbour at north and hike south to Kai Iwi Lakes - recreation area. Or You can continue further south to Baylys Beach.
When I enjoy views from bluff I hiked to Kai Iwi lakes. First five kilometers was on beach. When swimming you have to be very careful as they are dangerous currents. Beautiful beach itself was without single person. Beside a very little waterfall I turn eastward and left beach behind. Trail led through farms straight to Tahuroa lake. This lake has beautiful small white sand beaches and two campsites. Three local lakes are very popular among Kiwi (citizens of New Zealand) during summer.