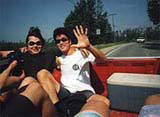 First of all I would like to thank all good people who I met. Especially to Robert and Rosemary Steinbaums from New Jersey,who me, in spite they sew me first time, and to my friends ( who they did not know), offered accommodation at their house. We took rest for three days there before we flow home. Thank You.
I visit again my friend from last year Maria. She forgot my name but she said she will never forget my face. After a short rest we gone on.
Nancy - - kitchens assistant - took us for days trip. First time in my life I drove Seadoo. It was great.
Czech language - longer then month I have not hear Czech. At last Spielbergs film "Saving Private Rayen" I saw a scene at the end of battle in Normandy. A man get out of bunker and say:" Don't shot. Don't shot. I did not kill anybody. I am Czech". And American soldier with:" What did you say?" shoot him.
Wildlife - at Devils Tower and Zion I met dear just a few feets from me.It was after sunset. They did not afraid me. They are probably visiting camps for foods at night.
Shower - you can pay just cca $2 for shower at some camps and you don't need sleep there.
WalMart (foto) - I was very suprised and pleased that shop assistant in this supermarket asked me if I receive pictures from last year. She remembers me in spite of huge amount people that she see everyday.
a Key - we were so looking forward to visit excursion at Jack Daniel, that we let our cars key inside and closed the car. Because police is really helping people in the USA, we called 911. In 15 minutes came sherif and opened our car.