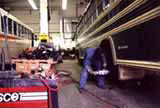 So eight months have passed and I am back. Because it is probably my last opportunity to work in the USA on J-1 Visa, my main aim in first "part of summer 01" is to earn as much as possible. But how conditions are changed. A new management. NO Overtime sounds in every department. It looks pretty bad. My friends Honza and Martina have arrived couple weeks earlier and saved one position for me in Princess Alaska Lodge. Princess is another company so we are allowed to work here. Thanks to my laster boss from last season Bill Nemec I am getting job with better payment. I am doing the same stuff like last summer's overtime
.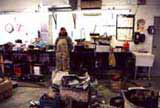 I am a oilerman, and I have 40 hours per week. I have a little bit better payment. My work hours are a little bit flexible, I am working alone usually from midnight to 8:30 a.m. But what does it mean? Just twice in whole summer I am at Czech drinking party. I have to leave earlier and not to a bed. I do not sleep at all because from a party I am going straight to work. I did it twice and than I felt that for whole week. I am going to a bad around 6:30 p.m., sometimes later. It's difficult mainly in June and July when you have sun above your head. On the other hand it's easy to get up because it's light before midnight too.
Job is easy but sometimes boring. I am working alone but it also has some advantage . . . I can compensate that at Princess :). A friend of mine Melinda is comming last week of July. We went together into the park. When I came back the situation has changed. I start to work 12 hours seven days per week. After I I am done with oil I am working with mechanics who train me. I have to say thanks to all of you: Brent, Boby, Tom, Lucky and others for enlargement my experience. Hope to see you again... I have to cut down my job in Princess. I am working here for two reasons - not to lose a bonus and mainly because I have here some good new friends. I am still working 15-16 hours per day just in different constitution.
Thanks to my roommate Brent I can drive a bike to Princess. Distance between these two jobs is not more than 5 kilometers but I am independent on bus and it means I am not loosing time.
This season we paid $12 per a day for three meals and room. It was more than one thousand for a whole season but I still think that in case of such a long stay it is OK.
Like the last summer I have almost every night a visitor - red fox.