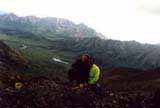 I have been waiting for that moment for a very long time. It seemed to me almost like endless ... But last week in July it happened. I got a visitor and not just anybody. I had met her last summer here in Alaska. We were traveling together with Petr and Ondra around Kenai Peninsula. This time she came to visit in this beautiful country Denali and me. Melinda.
Thank to my boss Bill Nemec in Aramark and boss in Princess I got several days off in both jobs. So I can spend severals days with Melinda into the park.
Unfortenetly the weather is not very kindly to us. Although we have rain for most of the time every day I am glad I am here. Nature is beautiful in every weather. And Melinda shows me again that she is exactly "holka do nepohody". I am also glad that she brought sticks. Crossing rivers wouldn't be so save without them. Because in the park aren't any trails there aren't also any bridges. You have to cross fast rivers through water or climb steeps hills. Our aim was mesa in Unite #39. We put up our tent near to that mesa. This flat mountin is pretty high. During whole day hike we sam several deers, caribous and eagle flying just above us. Last night we spent in unit #33 by Stony Hill. I have to say tha Melinda choose nice unit, different that I had visited so far.
Very nice view of Mt.McKinley you can have from Wonderlake. We visited this place during last day of our trip. And here on the lake's shore we saw Arctic Tern bird that likes daylight so much that every year is flying from Alaska to Antarctica where spand the winter. This trip is longer than 15 000km.