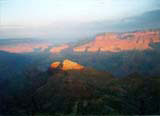 The Canyon's length is 16 kilometers and max depth is 1.6 kilometer. This canyon is the biggest in the world. To get in central section from one rim to the other you would have to hike along 33 kilometers long trail. During this hike you would experience at least four of the continet's seven life zones. On the bottom run the Colorado River.
Small wonder that the first Europeans to view the canyon, a group of Spanish conquistadores led by Don Carcía López de Cárdenas, could not grasp its true magnitude. In search of golden cities they went across the Painted Desert. Finally they got to the canyon's steep South Rim. After four lost days of trying to find a way down to the silvery ribbon of water flowing at the bottom, they gave up.
For Americans is sunrise-time probably too early so at this time nobody is at park entrance. You can save $20(car per week). Tourist information office is at southern rim of canyon at Grand Canyon Village Area. The path to the bottom of canyon starts here. I met man who caught get down and up in 5 hours. But I can not recommended it. I was able get to the Indian Garden (1158 m n.m.),which is situated on Bright Angel Trail. This path is long 15.4 km. My target was Plateau Point from witch should by beautiful view over bottom. But for storm and shortages of time I could not achieve this.
Greyhound is not going here. The closest place where is bus stop is Flagstaff. From here you can continue by another bus, train or use hitchhiking...
During my second visit in 1998 I and Lubos reached the canyon's bottom. We started at one in the afternoon from the Yaki Point. Because we did not have a lot of time we almost run downhill. By the Colorado River we spent only one hour. Water was so cold that we just dip our legs took pictures and got out.
To climbe up we took the Bright Angel Trail. Whole trip took us six hours. We were under pressure because hike after sunset was dangerous. We did not have any flashlights.
I was so exhausted by this hike that during my dinner I blackout. It took me several minutes to get alright again.