Established in 1914 as the main supply base for the Alaska Railroad to Fairbanks, Anchorage grew significantly during World War II with the construction of two United States military bases—Fort Richardson and Elmendorf Air Force Base.
In the biggest city of Alaska live 300 000 citizens that is about half of whole state. It's a melting pot of cultures - Eskimos and Indians who first ventured into the area 6,000 years ago, Russians who came for fur, prospectors who searched for gold, adventurers who turned a city of tents into a major crossroads for the world. Anchorage´s residents are younger, more educated, more international than those found in cities of similar size, and with 18,000 Eskimo, Indian and Aleut inhabitants, Anchorage is the largest Native village in Alaska. From here you can get almost anywhere in Alaska. Main economical income is from oil, gas and fishering.
The city is located as far north as Helsinki, Finland, and as far west as Honolulu, Hawaii. In flight time, Anchorage is seven hours from Tokyo, eight hours from Paris, three hours from Seattle, 5.5 hours from Chicago and less than eight hours from New York City. Anchorage International Airport is served by 19 foreign and domestic air carriers with more than 230 flights each day.
In 1964 town was catched by Earthquake of 9,2 level of Richter's scale.How it changed this place you can learn in Earthquake Park. Who is hungry for knowledge can go to Anchorage Museum of Art and History which contains one of the world's most comprehensive collections of Alaskan and northern art, ranging from prehistoric to contemporary. Others can take a bus for $1.25 and leave town. Just behind it you can meet moose or other wild animals :)
Spenard International Hostel - is an ideal place where to stay. It is small but has three big kitchens, two common rooms, "library" ... Personal is very friendly and in 2000 it costs $15. They provide also bikes. What is great: if they are full you can break your tent in the garden and to use all equitment. But the price is the same.
Who is traveling to Denali should take bus to Peter's Creek. It will take you out of the city on the highway. And hitchhiking in Alaska is easy..
.
City is situated approximately at the same longitude as Helsinki, and the same notrhern latitude like Honolulu. A flight takes seven hours from Tokyo, eight hours fromParis and three from Seattle.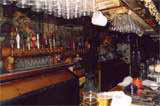 To hitchhike to Denali statr at Peter's Creek where you can get easy by bus.
Have a good time at night zou can have in Chilkoot Charlies, 2435 Spenard Rd. This building has several rooms with bars, live music,... Draft beer you can have till 21:00 for $1. It takes c. a half hour on foot from Spenard Hostel.