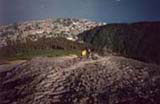 Seward - a little town on south coast of Kenai Peninsula.The town of Seward is named for William H. Seward, who arranged for Alaska's purchase from Russia. It has about 4 thousands of citizens. You can get here by AMHS - Alaska Marine Highway System. This town is important supply for Anchorage and whole inland Alaska. Railway starts here. For this strategic reason was in WW II attacked by Japan. You can visit Alaska Sealife Centrum. Town itself is not very fun but surrounding country is beautiful.
Wonderful overlook from the "air" over town and Resurrection Bay is offered by Mt. Marathon 1 403m. 4th July many people runs up and down. All participations have my admiration because they have to run on very steep hike in woods. Than through gravel area and on 15th June we hike on the top in snow. It took us three hours uphill and just forty five minutes downhill. That was fast because in snow we could just slide and in gravel it was soft for our legs. When we were almost down we had to get through rocky wall. I was pity that I had not had any lessons in claiming...

South from town is Coastal Trail heading to Caines Head State Recreation Area. In the west is Kenai Fjords NP
.