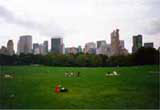 New York was the first city which I had visited in the New World. First impress was strange. I made a short trip in close environment of Columbia University with a few friends late at night. It was hot, streets were dark and people were not much confident.
Although second day the city showed its friendly face I was not much impressed. Darkness buildings, not any square,...I had not any book guide at that time so I did not know what and where I can find. But before my leaving I spent other three days here. And I changed my mind. "Big apple" has something a special itself. It is really whole world at one place. You can see crowed little streets at China Town, celebrations at Little Italy, mixture of little shops from whole world at East Village.
Polish community has its Parade Day every year at the first sunday in October. It hard looked like former celebration of the 1. may in former Czechoslovakia. Just nearly after each group was Miss of something...At this time they also supported invitation of Polish, Czech and Hungary to NATO. Next block was similar celebration - Korea.
At the midnight you can take heroic picture with snack on Time Square with a snake.
At Central Park you can (ia day) snap on Sheep Meadow. There are a lot of people, playing some games or just taking rest.I can recommended visit of Empire State Building, for $6 (shop assistant denied me ticket for $4) you were lifted up to 80 flight and 6 more you climbed. The beautiful view looks like from plane.
You can see pharonama of Manhattan from a ferry - Manhattan - State Island. This ferry is for pedestrian free.
Closely to China Town I saw relative actual graphite with Princess Dianna (left)
.