"If you are alive you would not be bored in San Francisco.
If you are not alive, San Francisco will make you to live."
William Saroyan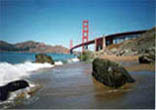 San Francisco is consided like the prettiest city in the USA. Native San Franciscans think of their city as a group of neighborhoods which pack an amazing level of diversity into a small area. Nowadays are 47% white, 30% Asian 13% Latino and 10% black living here. The biggest Chinas community is here (over 100 000) and Japanese the second one.One of the symbols of city is on Columbus Ave. - Transamerica Pyramid that´s hight is almost 300m. A few blocks north is Czech restaurant Prague. You can visit Alcatraz,ferry is from Pier 19. This fort was established in 1775. It was used like prisoner till l 1962. A group of 80 Native Americans manifestly occupied it in 1969.
Along harbor you can go to really beautiful Golden Gate bridge (r.1937, length almost 3 km). At both ends of bridge are parks -a great place for rest on the Pacific´s shore.
SF Maritime Museum free, typical cascade streets with a Cable Car and also the most curved street in the worldLombard Street
On Pacific Ave. you can have sirloin (Svíčková). Pilsner Urquel is for $3.5 at Cafe Prague. Staff are young young Czech. Just a block away on Brodway is Hiball Lounge, where I met a bartender Rainy.