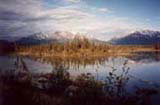 Alaska - "the Last Frontier" became the 49th US state in 1959. The state's name is derived from an Aleut word meaning "mainland". Juneau is the capital since 1906 when it took to former capital Sitka. The biggest towns is Anchorage where lives half of Alaskan citizens.
The remote and rugged terrain of Alaska has fascinated adventurous spirits for several hundred years—and probably for thousands of years—as scientists speculate that Asian peoples crossed the now-submerged Bering land bridge to populate North America. In the late 20th century Alaska has become a desirable place to live, and the state's population increased by nearly 40 per cent between 1980 and 1990.
Alaska contains two largest national forests in the US: Chugach, along the south central coast, and Tongass, on the southeast coast.
In 1867 the USA bought this area from Russia for $7 200 000 This purchase was call "Seward's Fally" but within 20 years Alaska showed its worth in series of Golden Rush and in 1981 that value flowed every four and half hours through Trans Alaska pine. Trans Alaska pine goes from Prudhoe Bay to Valdez.

Wildneress you can see in a number of well-known parks and resorts such as Glacier Bay, Caines Head SRA, Katmai, Kenai Fjords, and Gates of the Arctic national parks. Mount McKinley, the highest peak in North America at 6,194 metres (20,320 feet), is located in Denali National Park and Preserve, the leading resort area. The biggest national park of the USA - Wrangell-St. Elias. You can watch whales in Prince William Sound.
Northern Lights - Aurora is possible to watch during a clear night almost everywhere. In southern Alaska you do not see "Midnight Sun" but very long days you will have too.
Transportation:
By air (from Seattle, L.A.,..), ferry or by a car on Alaska Highway.