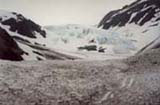 Access into Chugach National Forest is by Seward Highway connecting cities Anchorage and Seward. By the way "highway" is each paved road in Alaska. National Forest was established in 1907 and covers whole costal of Prince William Sound. One third of the Chugach is composed of rocks and moving ice. The Sound is favorite spot for whale watching. Hunting, mining and recreation is regulated.
For more than 10,000 years, the lands of what is now the Chugach National Forest have been continually inhabited by populations of Alaskan Eskimos and Indians. Following the purchase of Alaska from Russia in 1867, the lands surrounding Prince William Sound became the focus of mineral exploitation.
Chugach Forest has 15 campgrounds and more then 300 kilometers of hiking trails. Permit for backcountry camping is not required. There are also more than 40 public use cabins available for both summer and winter use.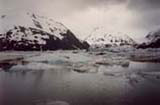 There are probably more bear, moose, eagles, marsh and shorebirds, migratory waterfowl, whales, sea lions, seals, sea otters, puffins, and even glacial ice worms on the Chugach than on any National Forest in the lower 48.
Near the Crow Creek you can try your luck and try to pan the gold. Entrance fee $3 (2000), with a rented pan's instruments $5. You can visit a old smithery and several other buildings.
The other attraction is Portage Glacier - this glacier is one with the best access and not so far away from Anchorage. You should not miss a nice visiter center where you can leran about glaciers.
Chugach National Forest is connected to Anchorage surrounding Chugach State Park.