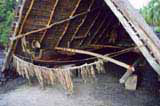 Pu'uhonua o Honaunau is on the western coast of Big Island south of the biggest island's town Kona. It was establish like a presentation of traditional life style. This place has been occupied for a long time. Drinking water and calm bay where natural reason to establish king's residency here. Residency was not a sinlge building to call palace, it consisted of several buildings in coconut tree grove.
Separated from the royal grounds by a massive wall was a place of refuge for defeated warriors, noncombatants in time of war and those who violated the "kapu" - the sacred laws. This place has been occupied for several centuries till 1819 when Kamehameha II canceled traditional religious practices and many of religious sites and structures were destroyed and abandoned.
Place of Refuge was a massive stone wall built about 1550. These walls are still visible today. The sacred character place got by the sacred bones of the chiefs. That was shy this place had spiritual power. Keawe'ikekahiali'io kamoku - father of Kamehameha I - his bones made this place such sacred. People got here second change. Nobody could be killed here. Those too young, too old or unable to fight could find safety here in the sanctuary and to stay till danger was over. These people than belongs to victory side. The second change got here also these who had broken the kapa - the sacred law.
This is also one of a few places where you can watch sea tortoise.