Trip to Camp Winnebago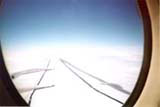 Thanks to study at university I was able to take participation on Work & Travel program for educational and cultural experiences that was supported by US Government and so easy visit The USA.
After passing interview, completed a few forms and paid $270 to CCUSA, I just had to wait which camp will choose me. One and half month before leaving I had got agreement from camp Winnebago.
19th June 1997 - I went by bus at 20:00 from Ostrovského ulice,Prague to Frankfurt, Germany. Next day in the morning I arrived exactly to the airport. Here I got my ticket and flight with Air UK to London's airport Stansted. In Britain I changed plane, Israel's El AL. I had to undergo a long interview about my luggage, why I am going with El Al,... Israel fears of bomb attack and so they closely check everybody.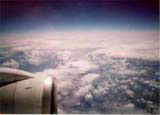 We landed at an airport Newark in New Jersey in the afternoon. From here we were taken to Columbia University in Manhattan in New York City. Here everybody got envelope in which were instructions how to get to camp. I was pleased because I had got two paided nights that meaned one day in N.Y.C.
Second day I went with a friend of mine to visit the city. We jumped several hours long meeting at university. N.Y.C. showed to us its nice face. Young maiden - bookshoper - asked us for help and get us our first $2 gained in the USA. I wanted also buy old (cheaper) guide Let's Go USA, but it was impossible.
I left N.Y.C. with the others at 8:00 on Sunday and was taken to the camp. The way took us 8 hours.
---
Travelling after the camp
First of all I wanted to travel with a friends Jirka and Jindra by a car. I even bought Buick Skylark. But because Jirka broke his leg I traveled with Jindra in the end by bus Greyhound. We bought "American Pass" for one month. Some experience. Our first stop was in Boston but mostly only to change a bus to Niagara Falls. Over night we than got to Chicago where we spent one day. Second night ride took us as close as possible to Pipestone. Because bus did not go directly to this monument we had to hitchhike.
On the way to secred Black Hills we met Australian Kevin and Belgian Myriam. Black Hills and Mount Rushmore we visited together. Just a few days later we met another Czech travelers Katka and Martin. For visit national park Yellowstone we rented a car in West Yellowstone. Our great time we spent also in Grand Teton. After four days we took bus again and drove to Las Vegas. In Flegstaf we rented a car and drove to Monument Valley and famous Grand Canyon.
From El Paso we walked to Ciudad Juárez in Mexico. We spent here only few hours and got back to our hotel in Texas. In L.A. we splited with our Czech friends but only one day later Jindra left me too. She took a bus streight from San Francisco to New York City and from here flew back home.
I took bus to Mono Lake and than to Mojave. I missed my connection to Las Vegas here so I kept going by hitchhiking. This time I could see Las Vegas also during the night. While hitchhiking to Bryce Canyon I discovered Cedar Breaks. Because I was not sure how long it takes to get there and back to bus connection I changed my mind and in the end did not visit Bryce Canyon but hitchhiked to Flegstaf. From here I was heading back to the east. Nights I spent on the buses, days I spent in Sant Antonio, New Orleans. I took longer rest in nice Keywest, Florida. After two days break I visited Atlanta and Washington D.C.. In Camp Winnebago I spent last few days and developed my films. I had departure from New York City.
---
Trip back home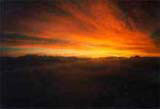 CCUSA paid ticket from N.Y. to Frankfurt. Everybody have to get to N.Y. on his costs. Different airlines have owns reservation's and ticket's conditions.
From Port Authority Bus Terminal goes bus exactly to airport Newark in NEW JERSEY. It costs 10$. But I used normal link bus to NEW JERSEY, where I one time changed bus that went exactly to airport. It costed less than $5 but it took about 45 minutes longer.