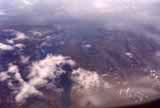 Even this time I have to thanks to my new friends. This time to Carol and Sid. I met them because this site. Carol wrote me a critical email and so we start to write. May 29th I flew first time over Island (unlucky Island was almost whole covered by clouds) and Greenland (unlucky I had not sunglasses so it was impossible to watch for a longer time because blinding white snow. On SF airport I saw Carol first time in my live. She picked up me with my bike and took me to her home in Palo Alto. But because she thought I am not tired enough she took it through one overlook on the top near-by hill with a beautiful view over :Silicon Valley and Pacific Coast. Than it was not any wonder that I flaked out promptly.
And how did see that Carol?
After dinner in japanese restaurant, I first time test sushi here, I am going straight to bed again. Next day morning I am going take a look to Pacific Coast at San Gregorio and than to airport. This time I flew with Alaskaair. After change a plane in Seattle and several more hours I am finally after midnight at Anchorage. I am glad to see my friend Mirka who takes me to her house. Next morning I open an account at AlaksaUSA, that is possible to open just with $5. You have free access through internet, ATM and Visa Check Card, that is not exactly credit card but serve almost like that (you can withdrew, pay by by this card and is accepted by rentals.
First of June I arrived to Denali National Park. I came to work here in Aramark again and this time I worked also in Princess. Back to California I got 20th September. It was just 9 days after terroristic attack on WTC at NYC and Pentagon in Washington D.C.. Carol was waiting for me again on the airport. I spent here two nights, assembled my bike and take a rest. Carol and Side were so kind and took me to Yosemite National Park on saturday.
And at this national park I start my cycling trip of 2001. First of all I wanted to call that "Trip around Southwest", but I had visited only part of California so I call it simply "Californian trip".
I had a little bit complicated departure - we spent seven hours on the airport, three hours on the board. We rolled back from runway....But in the end although by later flight I got home on 14th October.