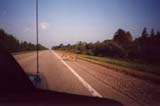 May 29th I arrived to NYC. After three days looking for a job I moved to Portland,Me. Here I found a job in five hours. I was waiting here a week for friends of mine Petr Mareček, CC and Ondra.
Then we went across whole continent from Maine so far as to Anchorage. We went through Canada to Great Lakes, in Sault Ste. Marie we re-entered again the USA, in North Dakota but we left beck to Canada - Saskatchewan. After four hours of sleep we left to Edmonton, where we spent two hours in the biggest mall over the World West Edmonton Mall.
Because we were in hurry for interview in Anchorage so we did more that 6 500 km in average speed 75 km/h including all stops for meal, sleep....
At Dawson Creek we entered the Alcan - Alaska Highway. Next stop was in Liard River Hot Springs, we bath in the thermal headwaters.
Immediately after we arrived to Anchorage we took an interview and got a job in PPT. We stay at Spenard Hostel. Because we had to wait a week before we should leave to PPT, we went to discover Kenai peninsula situated south to Anchorage. We visited Crow Creek, Chugach NF, Seward, Caines Head SRA and Kenai NP.
Than we flew from Anchorage to PPT cannery. Petr and CC left earlier than me and Ondra. We worked here more than a month. Than we tried to get another work in another cannery. Ondra was lucky and had got one ~ Alaska is a strange place on the Earth :). But season was bad.
I decided to hitchhike to Denali. First of all I wanted just to hike but in the end I was there until 19th September.
From Denali I left with Mirka and Ondra who are living in Anchorage. I stay for a night and next day hitchhiked to Seward from where 22th September last ferry to Juneau was leaving. It took me a week by AMHS to get to Bellingham,WA. And because even here it was rainy I decided to take Greyhound to Seattle, Portland and to Lincoln City on Pacific Coast. Here I started to hitchhike along Rd 101 to CA.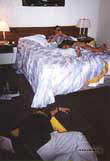 I spent a beautiful night in Oregon Dunes NRA, with Alice and her three sons, who gave me a lift, we spent a night in Redwood. Alice was driving with kids from Maine around whole States. She has my admiration because although Sam 8, Henry 6, and Frank 4 were great, I am not sure I could drive more than 15 000 km .... We took Rd 1 along the coast and then Rd128 to Doug and Judy. Alice's friend vindicated for her a night and she called to her unknown people that she picked up a hitchhiker and if he could arrive too. :)
We split in Sacramento, where we had both our friends. I spent other three days at a friend of mine Petra Bubna a Jarky. We swam in Berryessa Lake. My next stop was at my friend from a cannery Kris and Marcus in Santa Rosa. They took me to Berkeley - place, where era of "hippies" started, Marine - place where MrGary Fisher invented "mountain bike" and little town of Sonoma. From San Francisco I took bus toNYC and the same day left with Swissair to Prague, Czech Rep.
And some fun experiences.