Notice.: Time - includes a short stops for traffic lights, a map´s study ..)
British Airways took my bike like a second luggage for free again. The bike has to be taken in to parts and in paper box or special case.
First of all I have to thanks again. This time to my friends Carol and Sid. My bike-trip was part of more than four months long journey during summer 2001. More about that here
.
| | |
| --- | --- |
| Day | 1. |
| Date | 22.9.2001 |
| Distance [miles] | 5,1 |
| Time | 0:30:20 |
| Average speed [miles/hour] | 10,2 |
| Total Distance [miles] | 5,1 |
On 22th September 2001 I am leaving Palo Alto (Silicon Valley) with Carol and Sid do Yosemite National Park. We are passing one of Los Angeles' aqueducts, which supply A.L. of water from Sierra Nevada Range. I have to say, Sid was alright, that trip across Central Valley would not be very interesting. Especially in such a hot weather. Sid and Carol save me a couple days and energy. By evening we achieve Glacier Point. Glacier Point is a wonderful overlook across Yosemite Valley. Mainly with a sunset you can see A Half Dome in beautiful red sunlights.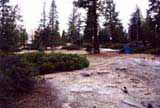 Unlucky I am under time press. I prefer to build my camp before sunset and when I get back to overlook is too late. Colorful show is over. At least I have quit night near Sentinel Dome (8 740ft) summit.
I am again traveling on a TREKKING FOX - HOT SHOT and also equipment of the bike is almost the same. Because in "New England" I had not use flashlight I had bot take any this time with me from home. But luckily before I left from Palo Alto I borrowed one from Carol. This time I need it was neccessary because condition in which I travel were totally different - venom snakes, spiders, hot - I travel at night....
| | |
| --- | --- |
| Day | 2. |
| Date | 23.9.2001 |
| Distance [miles] | 42.79 |
| Time | 2:33:37 |
| Average speed [miles/hour] | 15.8 |
| Total Distance [miles] | 47.9 |
In the morning after breakfast I am going to check summit of Sentinel Dome. The summit is beautiful and for sure you should visit this place. No so many people are here and the view is similar to from Glacier point one. I am surprised by warm weather. I guess around 85-90F and I was worry about snow. After seven almost flat miles I have maybe thirty miles long down hill to the bottom of the Yosemite Valley. Because I decide to climb A Half Come tomorrow and I need save place for all my stuff I build a tent in a camp. The camp cost $18/site by in "four-camp" you can pay $8/night and person. This camp is used usually by climbers. For rest of the day I am wandering around and eastern end of the valley. I met for example "King Snake".
| | |
| --- | --- |
| Day | 3. |
| Date | 24.9.2001 |
| Distance [miles] | |
| Time | |
| Average speed [miles/hour] | |
| Total Distance [miles] | 47.9 |
Around 8 am I am leaving a camp and start my seven miles one-way long trip to the summit of A Half Dome. Trail leads through natural beauty along Merced River. I am choosing steeper and shoter trail which is closer to Vernal Fall
. In short time I am passing second famous fall - Nevada Fall. Both you can see from Glacier point. Merced River leads through Little Yosemite Valley. Next time I would like to build my camp here in official backpacker's camp. Here you are further from overflowed Yosemite Valley and you can do some hikes to not such popular sites. For hikers climbing A Half Dome is this last places with stream water. Sun is burning. It's pretty hot and seems to me I will get to the summit just after noon. I have to save some water.
From rocky "hump" east from A Half Dome is a beautiful view over "Paradise Garden" or how it call Czech girl I met here, "golf filed". At the last section of trail you have to use two cables to achieve the summit. It looks worst than it is. Actually it ieasier thanan walking on in rock carved steps. It could take me no more than 10 minutes to do it. It depends how many people are there. By the beginning of cables is a stack of gloves which you acanuse. I did not because it seemed to me spinning.
| | |
| --- | --- |
| Day | 4. |
| Date | 25.9.2001 |
| Distance [miles] | 16,29 |
| Time | 2:13:59 |
| Average speed [miles/hour] | 7.8 |
| Total Distance [miles] | 64.2 |
It is wonderful storm during whole night. I like to listen to thunders that makes many echoes in the Yosemite Valley. Luckily storm is over with sunrise. I have to stand up early because last night i broke my bike and I have a flat tire. I am in hurry. I have to repair it and at 9 am meet my a new friend. I met Czech guy Tomášem with a car during climbing A Half Dome. He is traveling alone by a car and is willing to take me over mountains. I catch it so we are driving east to Mono Lake and Bodie one of the best preserved ghost towns in the West. We split in Lee Vining.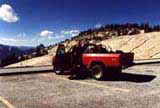 Strong wind is lifting dust so much that is covered whole eastern horizon. Unfortunately is blowing against me. I am not even sure how much water I should take with me. It will be first time I will drive in desert. I am not sure what water resources are along the road. Only why I am quiet is because I read about bikers traveling on this road in the same direction. I am not very willing to start paddling what can I do? I am buying one more bottle of water and heading to south. Road is slighty uphill but that wind is slowing me down. After 20km uphill I reached Deadman Pass with suitable place for camping.
| | |
| --- | --- |
| Day | 5. |
| Date | 26.9.1999 |
| Distance [miles] | 35 |
| Time | 1:58:19 |
| Average speed [miles/hour] | 13.5 |
| Total Distance [miles] | 99.2 |
Night was cold. Not surprised. I am in 2 600m. But in an hour after sunrise it is already pretty warm. Road is flat or slighty downhill. I am not in hurry. Around noon I am leaving paved road and on dirty one I am arriving to Hot Springs. This hotspring are situated southeast from famous ski resort Mammoth Lakes. They are about 7km east of road #395. Marked are only closest ones in Hot Creek. You can even fish here but camping is prohibit. Sid and Carol told me about "baths" - which were made by local people. These baths are not marked and are spread in surroundings. I am asking people here. They told me that the best one is in another 8km. There is camping allowed but is not drinkcable water there. So they are giving me two litters and I stay for other night there. It is even better here because close forest and it means shadow...
| | |
| --- | --- |
| Day | 6. |
| Date | 27.9.2001 |
| Distance [miles] | 63.5 |
| Time | 4:46:51 |
| Average speed [miles/hour] | 13,2 |
| Total Distance [miles] | 162.7 |
After another cold night is rapidly getting worm. I am heading still south. Before Bishop I have a nice 17km long downhill. Great. Bishop is far away only one city here so it has even supermarket, Paiute and Shoshone Museum and cosy park in which I decided to take a rest in tree's shadow during noon hot weather. Afternoon I am taking another bath in Hot Springs south from Bishop.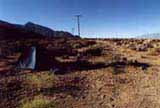 By this hotspring is camping prohibit. In whole Owen's Valley it is not difficult to find open place so in short distance I can put up a tent. Avelation is around 1 300m now and it means that it is hot here even at night. I was told to watch for rattlesnakes, scorpions,.... do I am keeping closed my tent all the time. You never know.
| | |
| --- | --- |
| Day | 7. |
| Date | 28.9.2001 |
| Distance [miles] | 51,14 |
| Time | 3:22:13 |
| Average speed [miles/hour] | 15,1 |
| Total Distance [miles] | 213,8 |
To day I want to get to Lone Pine. in this village is working friend of mine Kevin. I met him in Denali last summer. This time is Kevin working like a Ranger here. In his responsibility is also Mt. Whitney (4 418m) - the highest mountain in "lower 48". and I am here to climbed that peak.
But before I get there I have a short stop in Manzanar - National Historic Site. Manzanar - was one of ten war relocation center at which Japanese American citizens and resident Japanese aliens were interned during World War II. in three months after the attack on Pearl Harbor, approximately 120 000 citizens were routed under military guard to assembly centers and then ten internment camps with no more than what they could carry in two suitcases. They were mostly from western California, Washington and Oregon. Some of them stayed whole three years here. Manzanar was constructed in March 1942. A total of 11,400 people were processed through this relocation center. Manzanar was closed in November 1945.
---