Notice.: Time - includes a short stops for traffic lights, a map´s study ..)
| | |
| --- | --- |
| Day | 18. |
| Date | 9.10.2001 |
| Distance [miles] | 59,87 |
| Time | 5:01:24 |
| Average speed [miles/hour] | 11,9 |
| Total Distance [miles] | 796,5 |
I am going through Morro Bay. It's little town but not cheap one. A few kilometers north of this town it is end of a special bike-line. Road #1 is getting narrow. Coast is not rocky here and so road is mostly flat. I decided to stay in a cosy grassy camp at San Simeon State Park.
| | |
| --- | --- |
| Day | 19. |
| Date | 10.10.2001 |
| Distance [miles] | 83 |
| Time | 6:56:51 |
| Average speed [miles/hour] | 12 |
| Total Distance [miles] | 879,5 |
Coast is changing near Ragged Point. Land is rising here. After a short uphill I can watch beautiful cliffs from often overlooks. Narrowed road is pretty turning here but it is still pretty save because even cars have to go pretty slow. Pacific coast between San Francisco and L.A. is very popular among bikers over the world. It is better to go from north to south because than you are closer to the coast and have better view. But probably bigger reason is wind which you will have in your back. I was going in opposite direction and it is true that several times it was pretty windy.
Unlucky I can not find any camp before Big Sur. Area between road and ocean is very narrow with rocky cliffs. And when I see good place to stay for night it is private. Well I have to go keep going and pass long uphill. On the other side in Big Sur are several camps. All of them except one are pretty expensive ($25/site,...). They are in forest with the same kind of trees like in Redwood. The northest camp is Andraem SP with "my" price $1. This camp is just for tents and is located close to pacific coast out of forest but still with trees.
| | |
| --- | --- |
| Day | 20. |
| Date | 11.10.2001 |
| Distance [miles] | 79,7 |
| Time | 6:37:33 |
| Average speed [miles/hour] | 12 |
| Total Distance [miles] | 959,2 |
Next morning after a short walk around the camp I have to get over strong windy section. Sunshine is changing with cold fogs. in this condition and hilly road I am cutting distance between Big Sur and Monterey pretty slowly. Everything changed with Monterey peninsula. I am in an agricultural area with plenty of strawberry fileds. I can see a tractor with mexican flag.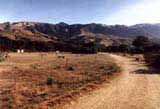 First of all I wanted to camp at Sunset State Beach, but just a few kilometers before this park pacific coast bike road turned. It is getting dark and it is first time when I have not found a place where to sleep. My attempt to get a help from Spanish speaking people is not much successful. Late but at least after another hour I on the beach.
---