Notice.: Time - includes a short stops for traffic lights, a map´s study ..)
| | |
| --- | --- |
| Day | 15. |
| Date | 6.10.2001 |
| Distance [miles] | 89.93 |
| Time | 6:20:58 |
| Average speed [miles/hour] | 13,8 |
| Total Distance [miles] | 600.8 |
In the morning after breakfast in local restaurant is impossible to assure David that he have already done for me too much. He persists on buying a map, I have to except The Cure's CD and some other stuff.....Los Padres National Forest is beautiful recreation area just north of L.A. I am in 2 600m elevation and heading to Pacific Coast I have mostly downhill ahead. It's sunny saturday's morning and I am passing tens bikers. On road 33 I have just one long uphill and after first doubt I am surprised like easy I am getting over that. Probably because better weather than in deserts. Section between Ozena Station and Ojai consists of mountain windy road.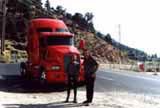 Like a usual this wind is blowing against me. I am taking rest during 20km long downhill that is just north of Ojai. I am in time by Pacific coast to see a beautiful red sunset directly to the sea. Unfortunately I am here too late to take picture of that show. Around 20km east of Santa Barbara you can found a few camps along the coast. They are pretty expensive. Seacliff Camp is full but I found my Angel who saved me here. Stefanie Angel is so kind and agree to share her place.
| | |
| --- | --- |
| Day | 16. |
| Date | 7.10.2001 |
| Distance [miles] | 62.31 |
| Time | 5:11:03 |
| Average speed [miles/hour] | 12 |
| Total Distance [miles] | 663,1 |
Morning is pretty foggy. Well, it looks that since now foggy - sunny weather will be my companion for rest of my trip. That is a typical weather along the coast together with lower temperature comparing with interior just a few kilometers away. I decided to take back to Palo Altoroad #1. At noon I am visiting Santa Barbara with her university. I have to say that this town is nice. Just water in the ocean is already pretty cold.
Free brochure of "Pacific Coast Bike Road is provided in visitor office. It is true that that brochure is not exactly perfect but I found that helpful information about section of road #1 that are prohibit to bikers, alternative roads in these sections, camps, bikeshops along the road... In two-three hours I want to cook a dinner in Gaviota State Beach. But what is my surprise when ranger by entrance tell me that for "walk-in & bike-in" is night just $1 per night. Well, why not to stay here for a night. Fro whole next week I am looking just for camps like this one. And they are usually in State parks and state beaches.
| | |
| --- | --- |
| Day | 17. |
| Date | 8.10.2001 |
| Distance [miles] | 73,53 |
| Time | 6:16:18 |
| Average speed [miles/hour] | 11,7 |
| Total Distance [miles] | 736,6 |
Back to north!! I am changing direction and since now I will go mostly straight north. It is foggy-cold morning but I am getting warm in two-kilometers long uphill. Fogdisappearedd. Sun show up. Country changes its face and I can see hilly grassland. It takes me two hours to pass Air Force Base Vandenberg. In this part of California I am sad when I see too often run over animals. In "Mexican" Guadalupe I am buying cheaper food. This area is agricultural. Tonight I am in Oceano Dunes State Vehicular Recreation Area. This camp is also for me just for one buck. I have great view of Pacific.Unfortunatelyy sunset it is not such beautiful like a few days ago. My tent is on sand beach. I am missing just water. It's recreation area and you can rent a off-road vehicle for driving in dunes.
---