Notice.: Time - includes a short stops for traffic lights, a map´s study ..)
| | |
| --- | --- |
| Day | 12. |
| Date | 3.10.2001 |
| Distance [miles] | 76,43 |
| Time | 5:48:10 |
| Average speed [miles/hour] | 13,2 |
| Total Distance [miles] | 454,2 |
Although I have finished uphill section with sunrise and next 17km is even light downhill I am already sick of biking. These 17km to Death Valley Junction seems to me like endless. Local guy tell me that not so many bikers are traveling through the valley like last summer. And after his advice that I should keep going if I want to be in Shoshone before noon i am leaving.
According to a map I should already have done three the worst uphill and for "rest" of journey it should be mostly flat or hilly. Even the warmest place in western hemisphere I passed. So I could rise a little bit average distance. I should because I am comming in on under time press.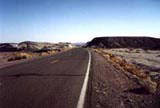 I still have 2/3 journey ahead.With one stop in the middle of nowhere I managed to get to Shoshone. Noon hot weather I am in the shadow with four young travellers from my Country who I met in this small village. I am already tired of drinking water so I am buying 2 litres of "Dr.Peper" for $3. With evening I am moving to near Tecopa Hot Springs. Directly in the middle of this village you can take a bath in hot spring. There are four baths - two for woman and two for man. You have to take a bath naked that is why woman and man are separated. I was told that this hot spring had one of the healthiest water around the world.
In Death Valley I met Frank Pauuier who told me about this place and I our ways meet again. I am visiting whole his family. They are traveling in mobil house. They are so kind and provide me with supply of water. With coming night I have to move further because distances between villages are getting longer. And only village is good place to stay over noon hot sunshine.
| | |
| --- | --- |
| Day | 13. |
| Date | 4.10.2001 |
| Distance [miles] | 40.79 |
| Time | 3:59:53 |
| Average speed [miles/hour] | 10.1 |
| Total Distance [miles] | 495 |
My trip have changed to traveling early in the mornings,late evenings and nights. It is full moon light and I am not passing many cars so it is not such difficult to travel. On the other hand at night I do not see a lot and during long hot noons I am just loosing time. But what is worst is psychical press: "You have to catch to get to some village or you would be burned by noon's sun. I am in the middle of Mojave Desert. It is strong wind at my face and I am moving very slowly. After four hours I am pretty tired but at least in Baker. I feel that my trip is not fun any more and looks like a torture. Baker is situated on "Interstate #15" between L.A. and Las Vegas.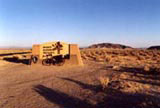 I am thinking about next section of my planned trip through Mojave National Preserve to Josuha Tree NP. Next place with theoretical 1) opportunity to get away from deserts not by bike is 200 km away. I am taking at least two hours' rest in mexican restaurant. Glad for aircondition. Than I am getting information about water resources in local information centre. in case of emergency I could get water every 80km. Well, I am tired so I decide stay near Baker for night and tomorrow I will see.
| | |
| --- | --- |
| Day | 14. |
| Date | 5.10.2001 |
| Distance [miles] | 17,88 |
| Time | 1:25:46 |
| Average speed [miles/hour] | 12.4 |
| Total Distance [miles] | 512.9 |
Morning is a little bit colder. Ok let's go south. After one hour paddling on Kelbaker Rd which is almost flat I can see how changed my view. There is not any change. And than I see in front of my eyes a map with even longer section of straight road without any curve which is waiting for me near Twentynine Palms. enough is enough and I am going back to Baker.
On bus station and gas station I am waiting for a bus driver if he would be willing to take me. During that time I am still looking at a map spreads over a table. My bike beside. A few people talk to me "from where and where". One of them is also David Bacon. I am hit by his answer: "Would you like a ride?." I am not hesitate any moment.
First of all we are going to warehouse of CocaCola south of L.A. and than through that agglomeration north to Frazier Park. This village is in Los Padres National Forest. David has been driving for two years for his father-in-law's Hagler Trucking company. After several beers and watching concert in Woodstock I am going to sleep with "It was almost like from Hell to the Paradise" in my mind. David thanks a lot!!!
---