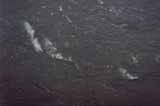 Many people are surprised, like me, by their first view of volcano in this national park. Instead of the steep cone-shaped peaks like for example Mt. Taranaki , these volcanos slope gently. Scientists call these domed mountains shield volcanos. Their summits collapsed over a long period of time after repeated eruptions spewed out their their insides. Summits are made of big craters called "caldera" - spanish word for cauldron. Eruptions of hawaiian volcanos have usually quite process, lava flows farther and gradually builds a mound with extensive, low slopes. It is mostly save to watch flowing lava from short distance and for a long time.
In the centre of national park is situated Kilauea Caldera. The crater is long four kilometers and wide 3,2 kilometers. It's walls are hight up to 120 meters. When Mark Twain visited this volcano crater was full of melted lava and this lava lake was as deep as 400 meters. As time went on and on lava filled the crater and it's bottom lifted up to today's level.
Walk throught the crater is unforgetable experience. Steams are leaking up to the sky from cracks and you can feel hot volcano's breath...Eveywhere where you look you will find surealistic structures made of lava. In southwest part is today's Pele's (God of fire) home. Halema'uma'u - the crater inside of the bigger crater is deep 90 meters and one kilometer in diameter.
East of the crater is other attraction Thurston Lava Tube - tunnel which was created by flowing lava stream under already stiffes upper lava layers. This lava tube was discovered in 1913 by Lorrin Thurston, a local newspaper publisher. It this area is also little native bush.
Just one kilometer from Kilauea Caldera is by the road #11 Namakani Paio campsite. In this cam you can stay for one week for free. Drinking water is provided. Surroundings area is cover with thin bush covered by moos. But you will see rain forest or desert too. Such diversity is because different grounds were made in different time. So on some places vegetation already started to grow on another not yet.
Chain of Craters Road is 30 kilometers long road that pass several lava fields and Pu'u Loa Petroglyphs - geometrické obrazce, zvířata i lidé ztvárnění v lávě. Main attraction is near "moving end of the road". "Moving" because lava often cross the road and makes it shorter. Under solid thin lava's bark is endlees stream of flowing lava. Several thousand people had driven to the end of the road and hiked the trail to see lava flowing down coastal cliffs and into the sea . Place where lava meets sea is easy to find because huge steam. If you are lucky you can see red lava flowing on the surface. I was surprised haw fast stiffening yello-red lava (1 160°C) changed it's color, shape and merges with older grey-black surface. It is very dangerous because you can not to be sure how old and cold is lava's surface. Before trip to see lava flow take a look at info.
In western part of national park is the most massive mountain on Earth Mauna Loa. Till 1961 was also part of the park crater Haleakala on Maui island.