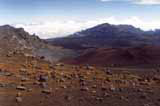 Maui is a name of "demigod" who levered up Hawaiian islands from Pacific ocean. Legend says Maui caught the sun and ordered long sunny days for population and visitors of Hawaii.
Maui island was meade of two originally separated islands. Space between islands was filled up by erosions and lava. In this place is now large valley that gives island a nickname "Valley island". Valley is used for farming, pineapple and sugar cane.

The biggest natural attraction is for sure Haleakala National Park. Hana Coastal hwy along northeastern island's coast is beautiful too. You can stope and hike to some of many waterfalls. Some of them are just next to the road, some are farther. The road is very winding and has 667 sharp turns and 51 narrow bridges. Along eastern coast is not recommended to swim because often shark's present and dangerous currents.
In western part of Maui is Iao Valley State Park with Hawaii Nature Center.
In a little town Lahaina is situated the biggest banyan tree in the USA. You can visit whaler museum and Sugar Cane Train.
http://www.mauihostel.com/ - I did not used their services but others recommend it. This hostel offers every day some trip to island's attractions for a little charge. I met them twice and I think for me they were kind of in rush...
Although this island is second in size and population hitchhiking to Haleakala or along Hana Hwy was easy.