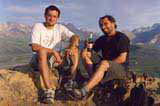 Because I did not work as much as last year I spare some time to play soccer, take a bath in hot tub in Princess or to visit Dog sled demonstration. That is a brief introduce to dog sled tasks with a short show. Main season for Husky starts with autumn and winter. They are used to help rangers during a winter. Denali Park is open whole year around but the road is usually closed.
This season was thanks to Kveta and Sona opened "Restaurant at the corner". Thi pub was so famous that was open almost every day till late night....and soon got unpopular among security members. They made them to take of the singboard. On the picture is behind pub "owners".
I shared a room with Brent again and he provided me by his bike for whole my stay. Thanks a lot Brent. I used that bike for several trips into the park.
This season I could call "wolf's season". This year it was first time I saw a wolf in Alaska. Actually not just one but seven during three occasions. Unfortunately for not enough light or a big distance I did not take a good picture. At last along Dalton Hwy I could watch a porcupine. This season I saw several of them just next to my bunk. porcupine.