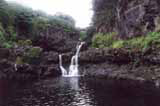 Kipahulu is a part of Haleakala National Park. Leis outside of a crater on eastern slopes. Because it's windward location it is very wets place cover with a rainy tropical forest. Rainfall reach as much as 1 570mm per year. Kipahulu Valley is home to numerous rare birds, insects and spiders. It is one of the most intact rain forest ecosystems in Hawaii.
Just next to a road is Ohe'o Gulch - several cascade waterfalls and pools corded by black lava. These pools are welcoming to take a refreshment. You welcome these pools aspecialy because thanks often sharks present swimming in local sea is dangerous. Night you can spend in one of two local campsites. These camps unfortunetaly do not have drinking water. Water from a stream is not drinkable even after treatment!
On crater's slopes are many waterfalls. To visit some of them you have to hike for a long time in difficult terrain, but to visit Waimoku Fals (120m) and Makahiku Falls (55m) you can hike on easy three kilometers long paths. The path itself is very interesting. You hike through a bamboo forest, see very exotic tree with long horizontal branches.